Surf the Soundwaves with DJ Online Tom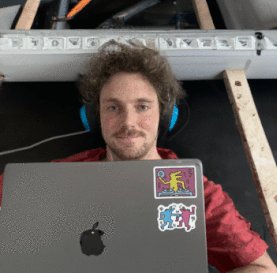 Immerse yourself in a multi-sensory, real-time journey where Online Tom crafts an intricate tapestry of sound and sight. Dive into an ever-evolving narrative of upbeat dance and electronic music, seamlessly blended with an array of visual experiences straight from the browser. From the vibrant stage of a laptop screen, watch YouTube tabs transform into new avenues of exploration, each one curated to surprise and engage. As you groove to the beat, catch glimpses of '90s Aussie TV show intros and iconic commercials, adding a layer of nostalgia to the live experience. But the show is more than a spectacle—it's an interactive soundscape where you're part of the creative process. Picture a shared Zoom session that brings the crowd into the spotlight, or maybe interactive games like Wordle and GeoGuessr to shake things up.
Each click and search serves a calculated purpose, sculpting a performance that unveils the chaos and creativity of the internet like never before. Experience the soundwaves of the web, where the digital realm meets the dance floor, all guided by the creative ingenuity of DJ Online Tom.
Look the video below is kind of long. Feel free to enjoy it all, but skip to 31:15 get a quick feel for it.
Hope you enjoyed it. You can view the few more of my sets on my Vimeo. And if you have any suggestions for videos or things to include in my sets, please use the form below.
Request nostalgia